Colombia - 7.8 million customers
Data Statistics
World Bank 2015
---
 Population: 48.23 million
---
 GDP real growth: 3.1 %
---
 GNI per capita: $7,130
---
 Mobile penetration: 113.1 %
---
 Internet penetration: 52.6 %
---
 Millicom
---
 Equity holding: 50.0 % + 1 share
---
 Mobile penetration: 104.8 % (est)
---
 Mobile market share: 15.6 %
---
 Mobile customers: 15 million 
---
 Market position: 2 of 3
---
 Services: Mobile, Cable, Business
---
Transforming lives in Colombia
Connecting to the Digital Lifestyle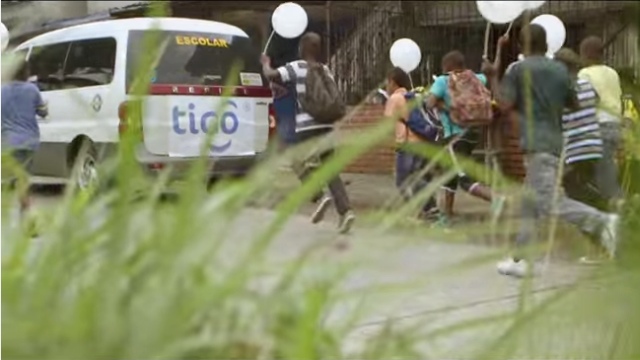 Foreign exchange was particularly challenging with 32% depreciation of the peso against the US dollar over the year 2015. Our main objective in 2015 was to fully implement the merger of our mobile business with the UNE cable business and we are seeing promising results. 
Innovation has played a huge role in our success. Tigo Colombia was the first company to offer micro-reloads and reload sharing. We were the first operator to host a virtual network (MVNO) in Colombia under the UFF brand, and pioneered mobile video content when the 3.5G service was launched.
Tigo was also the first mobile network operator in Colombia to offer mobile access to Facebook from any mobile handset, regardless of data plan, and we have recently signed an agreement with Telefonica to share 4G infrastructure. Our free Facebook campaign, combined with our other data plan Infinito, led to a strong increase in data revenue. Mobile revenue at Tigo increased by 3% driven by higher data penetration and market share gains.
In our home services in 2015, we saw exponential growth based on higher speed and content demand as more customers gained access to Smart TV and platforms such as Netflix. 
Tigo Music has quickly established itself as Colombia's leading streaming music service, with further consolidation of this position as market leader in 2016 expected through use of exclusive content and the App. To date, exclusive content has included Colombian Grammy Award winning artist Juanes, who joined Tigo Music in the studio for a recording session.
Through Tigo Sport, in 2015 TigoUne included Colombian national football league coverage for the first time.
In Tigo Business we have seen increasing demand for data center services as companies go in search of new efficiencies and business opportunities. We provide communication-based solutions to government, consumers, businesses and organizations including police departments, public transport systems, universities, and banks. 
We have seen smartphone penetration increase more than 50% in 2015 with significant gains in our mobile and 4G LTE subscriber base.
In 2016, we plan to launch our own DTH service leveraging our experience in other Latin American markets. B2B is a fast growing business in Colombia and we have seen increasing demand for data center services. We have worked on attracting new large companies and gained 180 new customers in the private sector to complement our existing business with the government sector in Colombia. Cross-selling of services into the B2B sector is an important part of our strategy and we aim to deliver more competitive and strategic products and services for existing mobile clients.
We are assessing the potential for MFS demand in Colombia.
Boosting the economy
We are a catalyst for growth, investing in local talent, connecting people and building digital infrastructure. Tigo and UNE together employ more than 5,000 Colombians, and Tigo further employs about 4,000 people indirectly. 
Our 'Tigo Talent' partnership with top universities, including Universidad de Los Andes, Eafit, Pontificia Boliviarana, Javeriana and Nacional, helps us to recruit final year students for management trainee positions in different business areas, creating a strong local talent pipeline for the future.
In the last three years, we have invested nearly $660 million. 
Responsible Leadership
As part of the ICT Ministry's effort to reduce poverty, Tigo was the first Colombian operator to provide infrastructure, computers and Internet access to more than 40 schools with children from low-income families. More than 650 students graduated from our ICT training programs in Bogota during the first semester in 2015.
Our Internet Seguro ("Safe Internet") campaign aims to build awareness about privacy protection, cyberbullying, and using the internet safely. By November 2015, the program had reached more than 380 educational institutions, with more than 88,500 children, teenagers, parents, and teachers during 2,250 workshops.
As part of our commitment to support GSMA's partnership with Child Helpline International, we continue to provide free calls and promote helplines where children can call for support and to report abuse in a number of our operations. In Colombia, we continue to look for partnership opportunities that raise awareness of helplines and allow free access to them.
Our responsibility extends to placing sustainability as a priority. In 2015 Tigo Colombia earned the Energy Efficient Award from the Ministry of Mining and Energy, Findeter and Andesco.
Other recent awards (2015) include:
TigoUNE scored 98/100 points in Transparencia por Colombia's transparency index, becoming the most transparent telecommunication company of Colombia
TigoUNE amongst the 10 most valuable brands in Colombia, by BRANDZTM Top 20 most valuable Latin American Brands 2015
Tigo Music recognized as the number 1 streaming music service in Colombia, BRANDZTM 2015
Featured as one of the 12 best practice case studies on life cycle thinking in America – UNEP Life Cycle Initiative