Paraguay - 3.6 million customers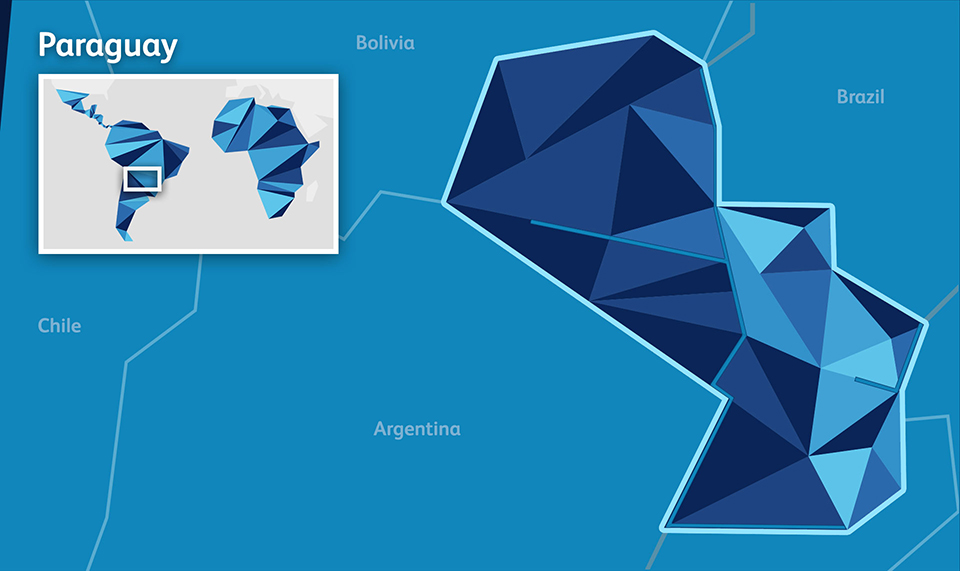 Data Statistics
World Bank 2015
---
 Population: 6.639 million
---
 GDP real growth: 3.0 %
---
 GNI per capita: $4,220
---
 Mobile penetration: 106 %
---
 Internet penetration: 43 %
---
 Millicom
---
 Equity holding: 100 %
---
 Mobile market share: 57 %
---
 Mobile customers: 3.8 million
---
 Market position: Mobile 1 of 4
---
 Services: Cable, Mobile, MFS, Online
---
Transforming lives in Paraguay
Connecting to the Digital Lifestyle
Tigo Paraguay is the country's leading mobile service provider with services that are driving digital inclusion and changing the landscape.
It offers the greatest amount of service coverage , reaching 96 per cent of the national territory, plus global access through international roaming to 220 countries, and data services to 137 countries. In 2014 Tigo deployed 7,000 km of fiber optic cable manufactured in Paraguay, covering 111 municipalities.
In April 2016, Tigo launched commercial 4G services for the first time and plans to have 80% of all households in the country connected to 4G by 2020. 
Tigo's award-winning Tigo Money brand (1.2 million customers) is providing mobile financial services to many who previously had no access to formal banks and institutions. They can now securely access money directly through Tigo and pay for a wide range of goods and services through their mobile device and via more than 3,000 points of sale around the country.
Tigo is also making cable TV and broadband internet more affordable to everyone, reaching all socio-economic levels in the furthest rural areas. Our entertainment porfolio offers more than 60 international channels, more than 20 of which are in high definition (HD).
Tigo Business offers more than 5,700 businesses clients a full array of solutions customized for every company – voice, connectivity, and cloud.  In 2016, Tigo opened a new state-of-the-art and award-winning Tier 3 data centre for Paraguay.
Boosting the economy
The company directly employees 1,500 people and 3,500 people indirectly, of which almost 100 per cent are recruited locally. The Tigo Sales school trains 500 people annually in sales and personal development via a four-week training program in business administration.
Further, the company has enabled labor contracts for people with disabilities and created 122 training sessions for its employees representing 32,000 hours of training. Millicom University, which launched in 2014, connects Tigo employees to more than 20,000 online courses from prestigious academic institutions such as Harvard.
We are also piloting a supplier capacity building program in Paraguay with eight key SME suppliers, who will receive in-depth training on ethical business conduct, labour conditions and environmental management as well as quality and customer management.
Tigo invested $120 million (0.5 per cent of the country's GDP of $25 billion) in both 2013 and 2014. It has invested approximately $1 billion in infrastructure since 1992.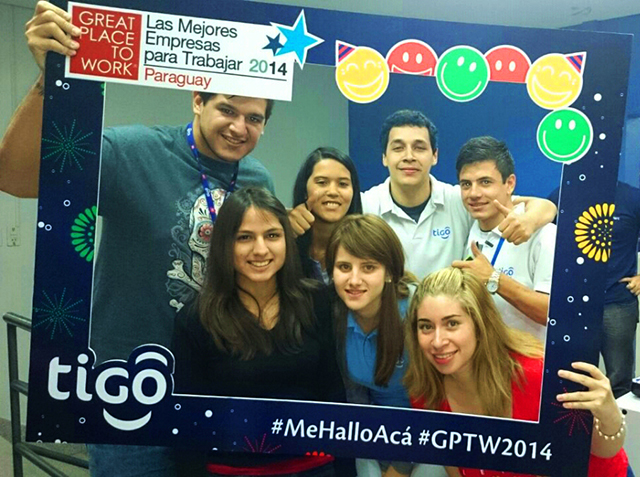 Responsible Leadership
Tigo Paraguay acts responsibly to promote good corporate behavior, positively impact communities, create an attractive workplace for employees and pursue compliance with labour rights and the code of ethics in their value chain.
It also works with a variety of organizations to improve and promote social and economic development. Tigo has launched a partnership with the Ministry of Health and UNICEF in projects that include combatting infant malnutrition, as well as malnutrition among expecting mothers.
The Telemedicina project connects 200 regional hospitals to the internet so test results can be sent to the capital Asunçion for analysis. The results are returned in as little as 30 minutes, giving 4.5 million people (65% of the total population) access to medical testing they did not have before.  
In 2016 Tigo signed the GSMA's Connected Women Commitment Iniative - the first Latin American operator to do so - to increase the proprtion of women using mobile internet and our Tigo Money savings products.  We also have a dedicated leadership program in place for high potential women, to empower more into senior roles.  
Our work on digital inclusion in Paraguay includes "Telecentros", the deployment of more than 100 shipping containers adapted as classrooms, fully equipped with IT services and internet connectivity, to rural schools across the country. These have reached thousands of teachers and pupils, who represent a new generation of digitally savvy users and who can in turn share their knowledge of the internet with their communities.
Tigo Paraguay reviews its environmental impact and conducts workshops to understand the challenges and opportunities of energy management, maintenance, and responsible disposal of waste. More than 40 tons of e-waste were recycled in 2014.