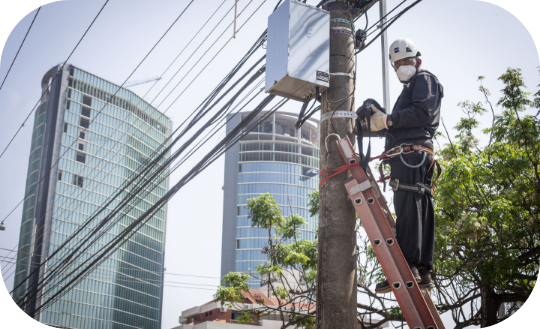 Our Purpose in Action
In response to U.S. Vice President Kamala Harris's Call to Action, we announced plans to invest $700 million to expand and maintain our broadband networks in Central America.
In May 2021, Vice President Harris launched a Call to Action for Businesses and Social Enterprises to promote inclusive economic development in Guatemala, Honduras and El Salvador (the "Northern Triangle").
Through the Partnership for Central America (PCA)—an independent organization that coordinates private sector coalitions and projects in digital, financial, health, education and energy programs—participating organizations aim to send a signal of hope to over 15 million people across the region and sustainably address the root causes of migration by fostering economic opportunities in these countries.
As a member of the PCA, we announced in June 2022 that we will invest $700 million to expand our fixed and mobile broadband networks in Guatemala, Honduras and El Salvador over the next two years. The investment will boost our efforts to accelerate economic growth through increased connectivity, as broadband penetration rates in these markets are well below regional averages.
Digital and financial inclusion is a key focus area of the Call to Action. Its goals include expanding affordable internet access and increasing participation in the digital economy; facilitating access to financial technologies and capital for small businesses; and ensuring that the most vulnerable and likely to migrate have access to basic public services and economic opportunities.
As part of the strategic collaborations between PCA partners, we launched a joint mentoring program with Glasswing in September 2022 to support and harness the power of youth of the region. Through the program, Tigo volunteers provide mentorship sessions in public schools in Guatemala, El Salvador and Honduras, furthering our commitment to contribute to our communities' growth through connectivity.