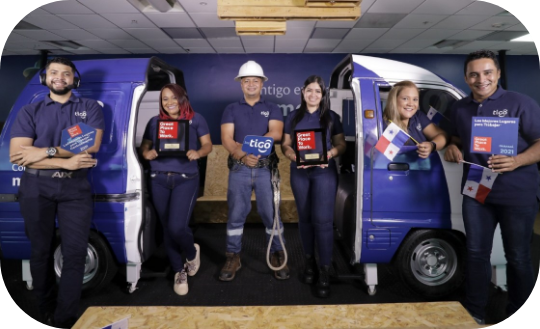 Reforesting Panama One Cell Phone at a Time
We're always looking for new ways to engage customers and employees in our markets. With our Un Celular, Un Árbol (One Cell, One Tree) initiative in Panama, we're not only engaging the community, but we're tackling two of the most persistent environmental problems in Latin America—the buildup of e-waste in local landfills and deforestation.
Un Celular, Un Árbol invites customers to drop off obsolete electronic devices at specially identified mailboxes at any of 32 Tigo Panama stores. Our local partner, Renuevo Panama, either recycles or responsibly disposes of the electronics, including cell phones, laptops, desktop computers, cell phone batteries and electronic cards.
Proceeds go to the Natura Foundation, which uses the funds to purchase and plant native tree species in the region. Tigo Panama and our allies plant one tree for each cell phone retrieved.
Un Celular, Un Árbol embodies Tigo Panama's commitment to acting as an agent of positive change in the region. In addition to revitalizing local ecosystems, the program is playing an invaluable role in raising awareness among Tigo customers and the community on the importance of recycling e-waste.