Blog: Leadership in Child Online Protection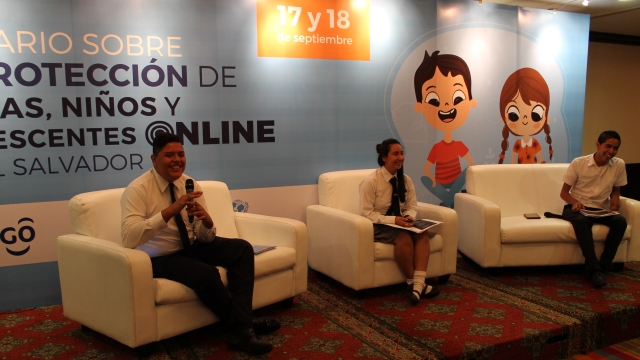 Millicom's lead specialists regularly report on important changes taking place within their own areas of expertise. Here, our Vice President, Corporate Responsibility, Milka Pietikainen, describes the important work being done on child online protection, both for Millicom and the telecom industry in general.
September 2015: This month, a series of conferences on Child Online Protection in Latin America take place to promote every child's right to privacy, freedom of thought, and personal safety on the internet.
The events, jointly hosted by Unicef with Millicom through its Tigo operations in El Salvador and Costa Rica, aim to raise public awareness of the risks children may face online, with participation from the mobile industry association GSMA, and established non-government organisations such as Oxfam and Save the Children.
The success of previous Child Online Protection events in three other Tigo operations – Paraguay, Bolivia and Rwanda - have so far been instrumental in building awareness of the issue with the public, government and businesses.
A Child Online Protection workshop hosted by Tigo Paraguay in October 2014 was the first of its kind in the region.
"As a leading Digital Lifestyle business in emerging markets, we lead the adoption of internet; and as access to the internet opens up so many positive opportunities for children, there is also a clear demand from our customers, as parents and teachers, to get support on child safety online and to take all measures to protect their children from harm." Milka Pietikainen, Vice President, CR.
With access to internet from an early age, young people are facing issues that are new to their generation, from cyber-bullying to identity theft, misleading marketing using their personal information, and possibilities to create their own content which may expose their privacy and their reputation.
What UNICEF and Millicom aim to achieve this month in El Salvador (17-18 September) and Costa Rica (20-21 September) by bringing together the press, members of the public, government delegates, child rights organisations, industry leaders, as well as children themselves, is a shared commitment to build safer environments online.
The UNICEF and International Telecommunications Union (ITU) Guidelines for Industry on Child Online Protection serves as a useful framework towards this.
Millicom is uniquely placed within the telecommunications sector to respond to the increasing dangers that children encounter when they go online.
As we focus on emerging markets, we are building a digital future for customers and for society, while monetizing our growth for investors.