Sangre TIGO Employee Communications Campaign wins 2020 Latin American SABRE Award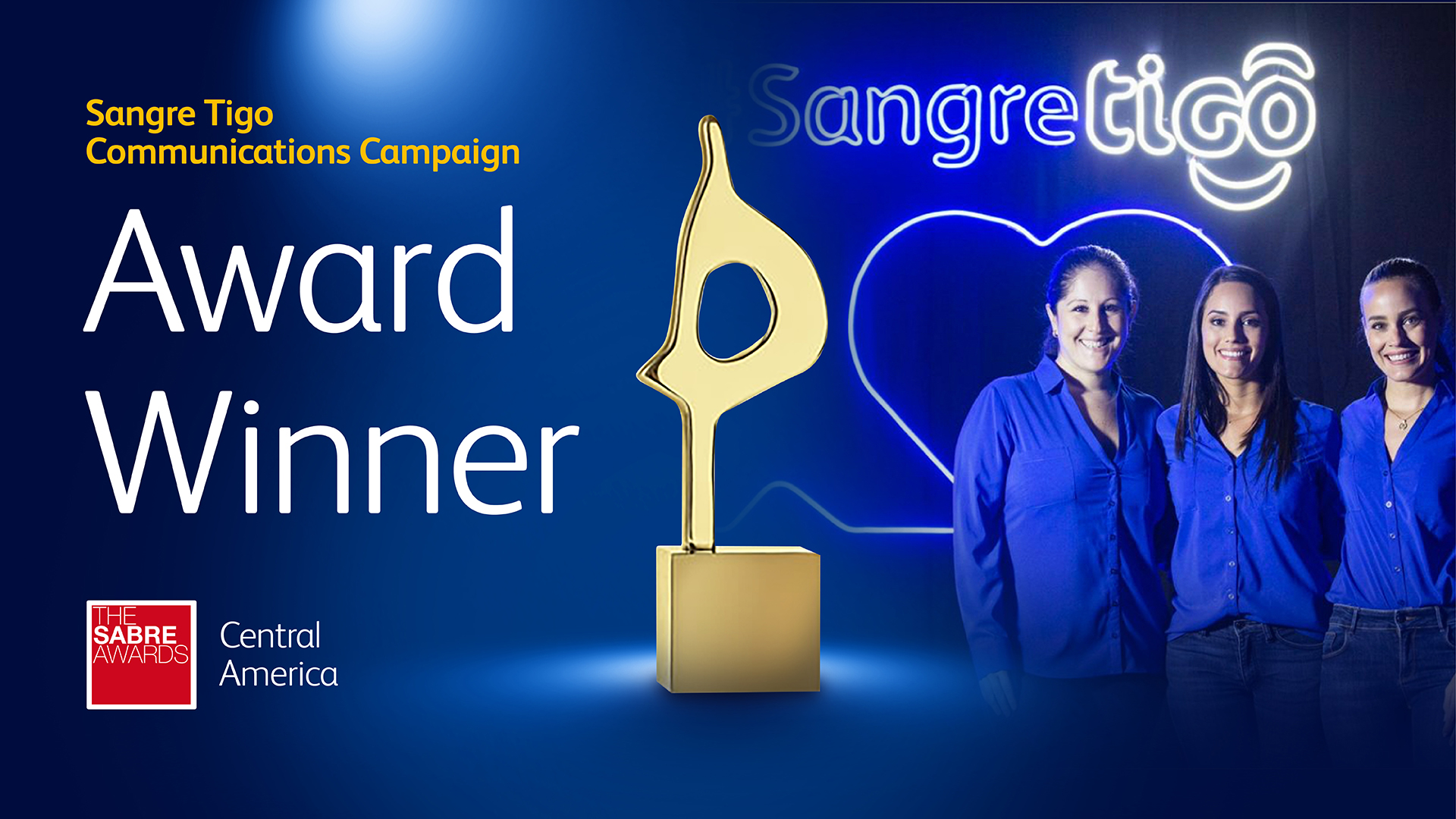 Continuing on our purpose to build digital highways that connect people, improve lives and develop communities, Millicom (operating in Latin America under the commercial brand TIGO) has been awarded a 2020 Latin American SABRE Award in recognition of Sangre TIGO, the company culture driver, as the top geographic campaign in Central America.
The SABRE (Superior Achievement in Branding, Reputation & Engagement) Awards are the world's largest public relations awards program, recognizing superior achievement in branding and reputation in North America, EMEA, Asia-Pacific, Latin America, South Asia, and Africa. The awards are delivered by The Holmes Report, the authoritative voice of the global public relations industry. 
A powerful testament on our entire TIGO team, the Latin American SABRE Awards recognize the best communications campaigns across the LATAM regions, covering the full range of public relations, consumer marketing, CSR, and employee communications, and advertising, to name a few. 
The SABRE Awards have always been about engagement, credibility, and relationship building. Now, more than ever, companies and agencies must work to demonstrate credentials in these areas, and the peer-reviewed endorsement that SABRE provides has grown increasingly valuable.
The recognition demonstrates our commitment to our Sangre TIGO, our unbreakable company culture, allowing us to keep striving for greatness no matter the circumstance. Re-defining the company culture into Sangre TIGO through the engagement of all employees was a purposeful effort, conceptualized by the communications team via an employee campaign, carried out on the CEO level, and cascading down to all departments. In addition to leading to three consecutive recognitions as a Top 25 Best Multinational Workplace in Latin America by the renowned Great Place to Work® association, and now the Latin American SABRE Awards.
The right acknowledgment goes out to all of our TIGO team members, who consistently turn our Sangre TIGO culture into reality every day through their commitment, dedication to our purpose, and relentless effort to keep building vital digital highways. This award is for them.
To learn more about Sangre TIGO, click HERE.
To learn more about the SABRE Awards, click HERE.
To view the full list of the 2020 Latin American SABRE Awards recipients, click HERE.
About Millicom
Millicom (NASDAQ U.S.: TIGO, Nasdaq Stockholm: TIGO_SDB) is a leading provider of cable and mobile services dedicated to emerging markets in Latin America and Africa. Millicom sets the pace when it comes to providing high-speed broadband and innovation around The Digital Lifestyle® services through its principal brand, TIGO. As of December 31, 2019, Millicom operating subsidiaries and joint ventures employed more than 22,000 people and provided mobile services to approximately 52 million customers, with a cable footprint of more than 11 million homes passed. Founded in 1990, Millicom International Cellular S.A. is headquartered in Luxembourg.