How a mobile money solution is born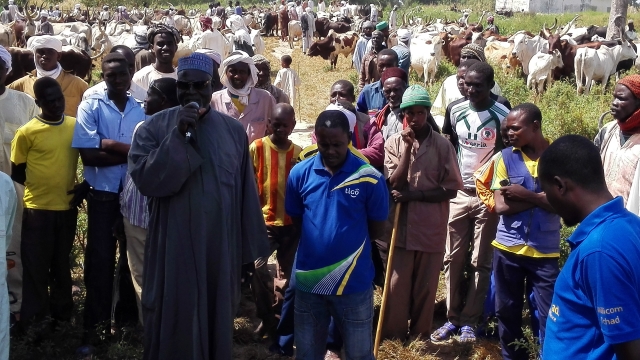 Millicom's lead specialists regularly report on important new activities within their own areas of expertise. Our Tigo Chad General Manager, Papa Sow,
describes how one innovative new Mobile Financial Service - Tigo Paare - is meeting a critical need amongst livestock traders. 
December 2015: Livestock trading is the second highest generator of GDP in Chad which, in turn, is Africa's fourth largest country by landmass. 
Chad's National Federation of Livestock Traders is therefore a highly significant organisation, numbering more than half a million members and generating 15 per cent of the country's entire GDP. It exports 30 per cent of neighbouring Nigeria's meat needs. 
When we met with the federation in early 2015, we were interested to discuss sponsorship and to find out ways in which we could help.
Just as we like to listen, we also asked them many questions about their activities and the challenges faced by livestock traders in Chad: milk storage, robbers, the threat of boko-haram and its links to extremism, in the Nigeria corridor.
If all this wasn't challenging enough, there was one other critical issue: access to water. 
We wanted to understand this last issue better, to see if this is where we could come up with a useful service.
Of course water wells for roaming livestock provide the right infrastructure. But with many micro groups constantly on the move across this very large country, it is hard to pool resources and bring everyone to the same place.
Some smaller communities have drilled wells, but the low numbers that use them make these examples unsustainable on a much larger scale. 
Remote traders would not trust others to collect and deposit the necessary funds with which to build them.
Others have managed to attract external sponsors (NGOs) but within years these drills have collapsed, and without the financial planning and management in place, nobody is there to pay for necessary repairs and maintenance. In fact, nothing seemed to work!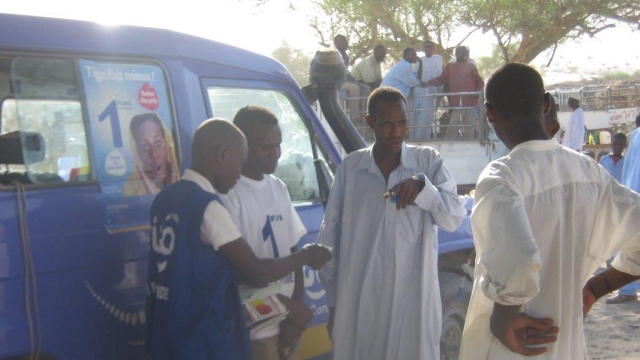 The central problem was how to bring large, often distant, livestock trading communities together, with a common bond, to self-organize, fund and maintain shared utilities and projects?
For the eldest in the federation, it was unclear how roaming livestock issues could be solved by a group of young Tigo employees looking at their smartphones. Yet many of these employess grew up in rural families and are even more motivated today, to come up with unconventional solutions.
The mobile phone actually offered the best infrastructure to reach any group member. Tigo Cash offered the best infrastructure for depositing and forwarding members' funds. But both were for individual users, not groups.
We needed a "group layer" on top, to deal with common funds, trusts, and other group initiatives.
We also realized they were all already part of Africa's popular group savings plans (known as Paaré in Chad, Chamas in East Africa, Tontines in West Africa). Then the solution became obvious. This is how Tigo Paaré started. 
We created;
• A group Wallet, for members to contribute from their mobile phones 24/7, even at distance.
• Ability for members to check their contributions and monitor the group's balance, from their mobiles.
• Group savings that generate Interests, that are repaid each month as a Tigo Contribution to the group
• Relaying ambitious groups' needs and projects to external sponsors (NGOs, Banks ...) for further funding.
After describing this approach, federation members began to look at the mobile phone with more respect! 
One elderly man told the Tigo team: "We were hopeless and thought this will go nowhere, having reached out last year in vain. This wasn't about visibility or sponsoring as we usually see from companies. Your team has our critical needs and challenges at heart. You can't fail!"
Today, different kinds of groups are reaching out to leverage this innovation:
• Rotating credit/saving groups, known as Paaré in Chad (Asussu in Nigeria, Djangui in Cameroun etc...)
• Sales Women (imports, transformations, resale of products from Lake Chad). Contributing daily to fund a member's shop/project each month. 
• HealthCare Mutual funds, to reach more families in remote areas.
• Religious groups who contribute weekly to fund events and training programs for young girls.
• Teams crowdfunding projects such as employees contributing to buy land at group negotiated rates. 
• Producers such as Chad's cotton cooperatives (17,000 production units), looking at group shared equipments, fertilizers.
The journey has only begun and while the service is becoming a tremendous phenomenon in Chad, Tigo hopes other MFS innovators across the region will take this forward.
Tigo believes that this is only a start, beyond group savings, the core need is to simply provide group financial services that individual members can access within certain rules.
One day, these groups might well become powerful "credit unions" powered by mobile money, or contain "mutual funds" in a similar way to insurance and savings products.