Employee of the Year Cajetan Nagua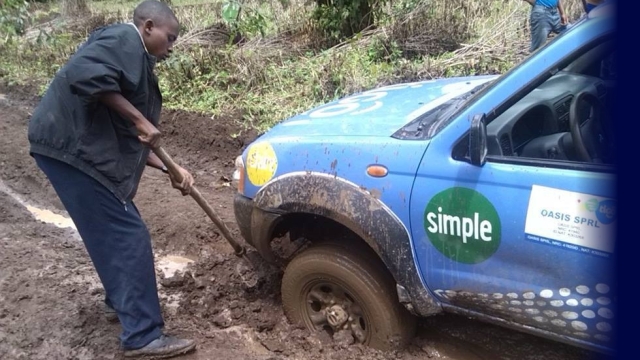 Each year Millicom makes an award to one member of staff as "Employee of the Year". It is the company's most prestigious award which recognizes one person's performance and attitude. This year, the winner was Cajetan "Caje" Nagua, Regional Manager, Eastern Democratic Republic of Congo (DRC). Millicom's Digital Editor Malcolm Fitzwilliams spoke with Caje from his offices in Goma, North Kivu province.
JUNE 2014: Caje's car has clocked 30-thousand kilometres since it was shipped in last December.
By July, it will have covered the same distance as a trip around the world, on roads that are notoriously bad. During the wet season (October to May) most vehicles in Eastern DRC regularly get stuck in the mud.
"We lack good infrastructure here," Caje explains. It's one of the challenges he and his team must work through daily. There are many, but as he describes the lawlessness, violence, and difficulties that local residents, women especially, must face, he sounds motivated.
"What makes working here so exciting is that, as a company, we have accepted to invest in a highly volatile area, thinking about the lives of the people by providing the required communication tools."
He also has a few problem-solving tricks up his sleeve that enable him to move around freely and get the job done.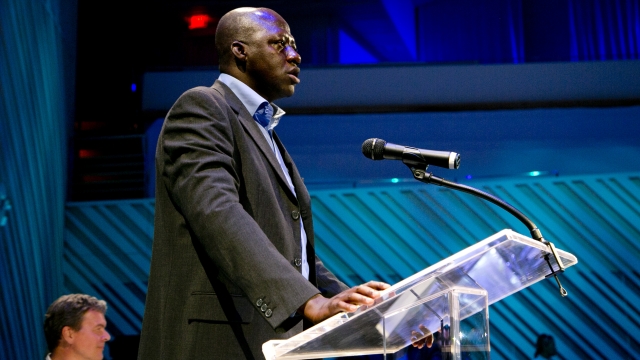 Caje (pictured left, speaking at the 2014 awards) is 42, a father of three, and appears to give what he gets out of life.
He grew up in Daffiama-Owlo, a close-knit community in the northwest corner of Ghana where everybody knows everybody else and most are poor farmers.
His father Nicholas Nagua is a spiritual elder in his 70s. His mother did not study.
He however had a progressive upbringing. His own education meant learning in classrooms that were sheds but what the priests taught him back then (including discipline) has stayed with him for life.
He is passionate about education and sponsors annual awards back home for the best junior and secondary school graduates. "I encourage young people to aspire," he said. Thanks to his support, his village now has a mechanized borehole for clean drinking water.
Life for Caje could have been very different to what it is.
As a young graduate he chose politics. His ambition was to sit in parliament for the then main opposition party. As he put it, he got a good "spanking and hung up my boots". From thereon, his CV transforms into that of a successful young businessman who had choices and chose carefully.
When he joined Millicom in 2004, he recalls turning down other offers. For Caje this was a turning point.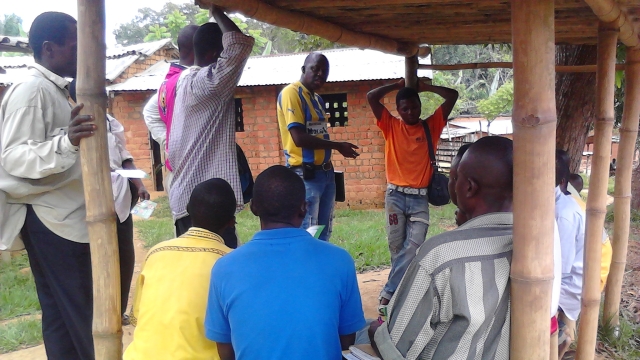 Ten years and five African and Latin American countries later, he knows his strengths.
Teambuilding and customer service drive him (pictured left, with a Tigo sales team). He said: "I motivate myself through my team and we always say we are in the competition to win. I'm particularly focused on ensuring that the team is injected with the right people." 
He overseas operations that train staff and ensure sales agents (there are approximately 1,500) start the day with a good breakfast. It's a benefit based on sales KPIs so any casual opportunists are ruled out. 
Each year, the Employee of the Year award comes with a cash prize. In Caje's case it has been a team decision, how to spend it. The cash will go towards paying for whiteboards in the classrooms at the University of Goma.  
"Even 20 years ago in Accra I remember they taught with whiteboards. This is what they need here. They are still using chalk and blackboards. It's important that we use the prize to improve amenities locally. For my team it creates a better impact within the community and a better image for the company."
*When Tigo returned to Eastern DRC in June 2013 Millicom doubled its footprint in the country overnight. The eastern region covers 30,000 square kilometers and has a population of 11 million. During the first six months, Millicom reported gains of half a million customers.