Millicom signs the Humanitarian Connectivity Charter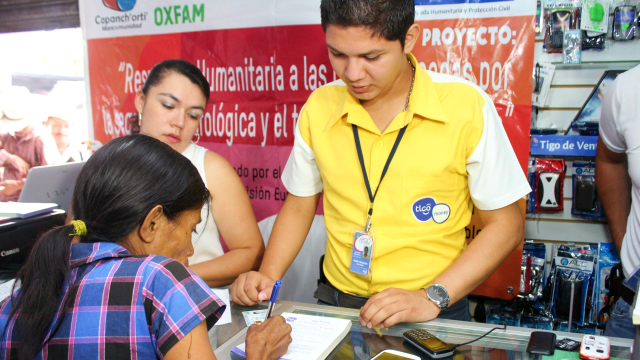 The GSMA, which represents the interests of mobile operators worldwide, welcomes Millicom as its latest signatory to the Humanitarian Connectivity Charter, set up to strengthen access to communication and information for people affected by crisis 
February 2016: Mobile networks and the communication and access to information that they facilitate can be a vital lifeline for those impacted by disaster or crisis.
In recognition of the role that the mobile industry plays in humanitarian crises, in March 2015 the GSMA launched the Humanitarian Connectivity Charter.
The Charter is formed by a set of principles which focus on enhancing coordination, scaling and standardising responses and on strengthening partnerships. The ultimate aim of the Charter is to strengthen access to communication and information for those affected by crisis in order to reduce loss of life and positively contribute to humanitarian response.
We are pleased to welcome Millicom as one of the latest signatories of the Humanitarian Connectivity Charter.
Millicom has a history of humanitarian engagement. In 2013 Tigo Guatemala and Oxfam formed a partnership that simplified and enabled the distribution of humanitarian cash transfers to families affected by child malnutrition and drought.
Families were issued with a sim card and personal pin number which they then used in order to receive authorisation codes sent by Oxfam via SMS. With these codes, families could collect their emergency funds from the nearest Tigo point of sale.
The success of this partnership has since been repeated in other Millicom markets including Chad, where Tigo Cash has worked with the humanitarian organisation Action Contre le Faim to disburse emergency funds to drought stricken communities in the Kanem region.
In Paraguay, Tigo Money has an agreement with the World Food Program (WFP) to disburse emergency funds. It also works with the government to distribute financial support through the Tekoporã - a social programme that was set up to reduce poverty and promote upward mobility. 
In Honduras, Tigo Money has aligned with the World Food Programme, also to help communities with special needs.
Another forward-looking and first-of-its-kind approach by Millicom was to the Flowminder Foundation, in support of the development of crisis-mapping in the fight against Ebola.
At the end of 2014, Millicom signed an agreement with Flowminder, a non-profit organization dedicated to developing and scaling new analytical methodologies, working with mobile operators to secure processes for providing relevant anonymised network statistics to health and aid agencies. The partnership aimed to study the ways in which such processes could be useful during the response to the Ebola crisis.
The GSMA privacy guidelines for management of mobile data in order to minimize these risks were created as a response to the Ebola outbreak. The collaboration between Millicom and Flowminder was fully aligned to these privacy guidelines.
At the time, Erik Wetter, CEO and Co-Founder of the Flowminder Foundation said. "With Millicom, we're embarking on a long-term multi-territory partnership, which is a clear testament to Millicom's dedication to create lasting positive impact in the countries where they operate."
During the 2014 outbreak, Millicom also set up a Global Crisis Committee to support the Local Crisis Committees running in each African operation beginning in August 2014. The Committees worked in close collaboration with local governments, intelligence and security agencies to develop and test business continuity plans.
These examples already demonstrate strong alignment to the principles of the Humanitarian Connectivity Charter and we look forward to continued engagement with Millicom within the signatory group. Existing signatories will benefit from the expertise and experiences of Millicom across its operating markets, and Millicom will gain access to a growing community of best practice.
Note: The Humanitarian Connectivity Charter is supported by UN OCHA, the UN Emergency Telecommunications Cluster and the International Federation of the Red Cross and Red Crescent Societies. Signatories include Ooredoo Group, Axiata Group, Smart Communications, Globe Telecom, Roshan, Etisalat, Telefonica, Zain, Millicom and Ericsson. It was created following a series of industry workshops and collaboration facilitated by the GSMA Disaster Response program, in association with UN agencies, mobile operators, vendors and NGOs.