MFS interoperability launches in Africa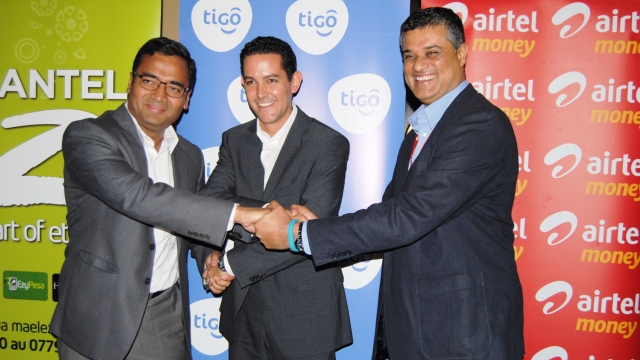 Customers in Tanzania have become the first in Africa to access cross-carrier mobile financial services, as part of a groundbreaking new partnership.
June 2014: The new interoperability agreement - the first of its kind in Africa - will enable our 3.4 million Tigo Pesa mobile money customers to send money to others registered with competing service providers Airtel and Zantel. 
The move now places Tigo Pesa at the heart of an extended mobile money network that is estimated to exceed sixteen million customers. 
While this is a first for Africa, similar cross-carrier agreements for voice calls and SMS text messaging were common in the early years of the mobile industry.  
According to Millicom's President and CEO Hans-Holger Albrecht, the consumer benefits of interoperability have made it long overdue.
"With this agreement we can help make Tanzania a global pioneer in digital financial inclusion. Interoperability will be a catalyst for growth in the mobile money sector and is long overdue. It's an example to operators in other countries."
Together, Tigo, Airtel and Zantel have welcomed a recent statement by their shared rival Vodafone in support of the principle of interoperability, and now look forward to concluding a similar agreement with Vodafone's subsidiary Vodacom.
Tanzania is widely recognised as a pioneering market in the mobile money industry. 
In February 2014, Millicom scored another "first" there when it successfully launched the world's first ever cross-border mobile money service with currency conversion between Tanzania and Rwanda.
According to the World Bank (International Finance Corporation, Fiscal Year 2013) most adults in Sub Saharan Africa are largely unbanked and without formal financial services.
Our innovative Tigo mobile money platform offers a valuable alternative; a place to save money securely, safe and efficient methods of transferring money, and unprecedented access to credit and insurance. 
The scale of demand is high. In June 2013, mobile money users in Sub-Saharan Africa, the Middle East and North Africa, accounted for 77 per cent of the global transaction value, performing 341 million transactions that totalled 5.7 billion US dollars.
*For the full press release, click here.