Mobile education that transforms lives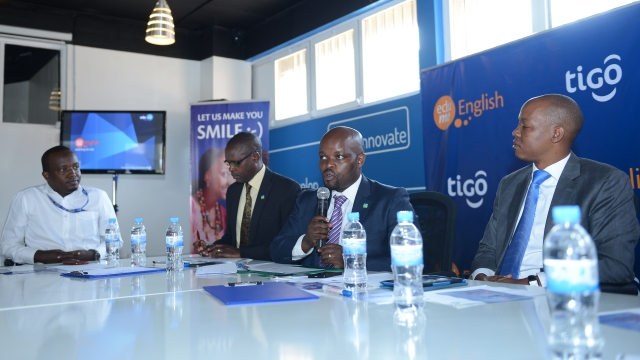 Millicom launches the first of its groundbreaking new mobile and internet solutions in learning and education for Africa and Latin America.
July, 2014: A powerful, unique, low-cost solution to English language learning is now available exclusively to Tigo customers in Rwanda.
The service is easy to access by subscription or on demand and enables students who wish to learn English to follow carefully designed courses at any time, in any place, via the internet or mobile phone.
It also marks a groundbreaking new venture into educational services for Millicom, through its EduMe brand.
In the coming months, EduMe English will extend to El Salvador and Tanzania. EduMe Tutor - a phone and skype-based English language tutoring service - has already launched in beta mode in El Salvador with the live service to follow shortly.
Millicom CEO and President Hans-Holger Albrecht said of the new service: "We are very excited to offer millions of people in Africa and Latin America the chance to educate themselves with the help of mobile and internet technology.
"We are starting by offering English language training as this is a language that gives people more opportunities and connects people across the world. Millicom is all about promoting a digital lifestyle and transforming lives: education is integral to this."
EduMe's user-centred approach has created a learning platform that is easy to use and has been welcomed by Rwandan officials. Education Minister Mathias Harebamungu and Youth ICT Minister Jean Philbert Nsengimana attended the July launch at Millicom's tech incubator "think" in the capital Kigali.
The courses are designed for easy access and to promote successful completion. EduMe's focus is on engagement, using localized content as well as clear standards set out by the Common European Framework of Reference for Languages (CEFR).
Recordings by native English speakers are provided along with instructions in the local Kinyarwanda language. Students can follow listening, reading and speaking exercises as well as choose text lessons, quizzes and audio sessions according to their level.
In Rwanda, Millicom's venture into mLearning through EduMe compliments government-led initiatives that since 2008 have shifted the country's entire education system from French to English. 
In addition, English has been an official language in Rwanda since 2009, when the country joined the mainly English-speaking Commonwealth of Nations.
Further key EduMe products are lined up to launch later this year, including Africa's first purely mobile vocational business school – the EduMe Business School. This service will initially be exclusive to Tigo subscribers in Tanzania, and has been developed in co-operation with GSMA, the worldwide mobile industry body.