Lighting our 25th Anniversary celebrations
One year ago, Millicom lit the spark that lit the flame and life would never be the same…
And so began, in 2014, an internal competition for the best idea to celebrate our 25th anniversary this month.
As the leading exponent of the Digital Lifestyle in emerging markets in Africa and Latin America, Millicom has much to celebrate.
According to a panel made up of Directors and Executive Committee members, the strength of the competition's winning idea – chosen from more than 300 - was that it paid tribute to the teamwork that got us this far.
The winner was our Miami-based Global Digital User Experience Specialist Nelson Morales.
Nelson envisioned a celebration in which everybody working for Millicom could take part. Each one of us was invited to download a Digital Torch from a special 25th anniversary website and film each other passing it on, from one person to the next.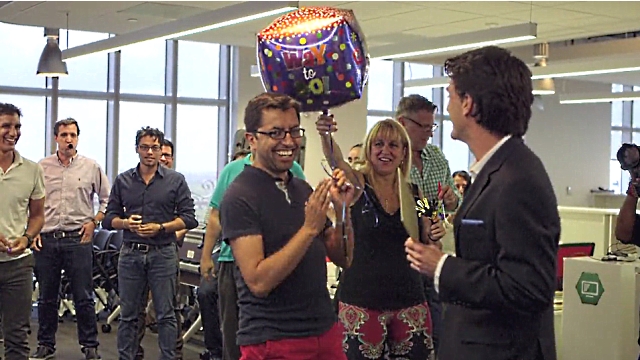 Nelson said: "We thought of an Olympic torch travelling across each country and culture, representing unity in the team; with the torch as a symbol of the Digital Lifestyle that connects everybody."
According to CEO Mauricio Ramos: "After careful deliberations, and from a thousand ideas, one was unanimously selected as the winning idea to help us celebrate our 25th anniversary and the Digital Lifestyle. We thought it was a fantastic idea."
With Nelson's clear concept in mind, an innovative creative agency behind it and two Tigo teams (Senegal and Colombia) enrolled for production support, the flame was well and truly lit and the preparations began.
In the months that followed, the project grew to be more than just a movie.
Hundreds of us joined in, filming on our smartphones for fun and uploading the videos to the purpose built Millicom 25th Anniversary website, ultimately to create a movie featuring a cast of hundreds.
Simultaneously we researched a detailed history timeline that stretches back to our earliest beginnings, and most importantly, we set about creating greater awareness of what Millicom has uniquely achieved over a quarter century and where it wants to go.
Veronique Mathieu, who joined the Millicom office in Luxembourg in 1993 when it was just a team of eight, has witnessed much of this fascinating 25-year journey.
She recalls her earliest impressions of Millicom, saying: "What was amazing was the absolute team spirit we experienced. The wish to make Millicom a success story was common to all employees. No defeat would be accepted although there were tough times to go through."
Today, Millicom's future, as the leading exponent of the Digital Lifestyle in emerging markets in Africa and Latin America with some 60 million customers, is more exciting than ever.
We connect the unconnected; we believe in access to the internet as a basic human right, and we enable our customers through the Digital Lifestyle to advance in life and to find joy.
We have become world leading innovators along the way.
In Africa, the World Bank recently named our Tanzanian market as the global leader "in terms of mobile money payments, loan disbursements and paying interest to depositors." In Spanish-speaking Latin America we are set on becoming the second largest Pay TV operator.
We are expanding our music streaming, televised sports coverage, home entertainment, Tigo business products and services, cloud computing and hi-speed internet network coverage to millions of people in our markets who have yet to discover the benefits of a Digital Lifestyle.
For us, 25 years is just a stepping stone.
As we say at the end of our movie: "Are you tired? Come on! It's our birthday. We're only 25. We've got a long, long way to go yet."
Millicom in the Press 2015
Mobile World Live (Oct 2015): Interview with CEO Mauricio Ramos  
Brookings Report (Nov 2015): Fostering Financial Inclusion and Financial Integrity
Financial Times ($) (Nov 2015): Latin America gets a Taste for Mobile Money 
Mobile World Live (Aug 2015): Millicom aims high, driven by data
Unicef (Oct 2015): Millicom carries out child rights impact