Mobile Money Agent of the Year 2014
The success and reputation of Millicom's mobile money products and services are defining examples of the innovation, energy and, most importantly, the people that drive our brand. Here, we celebrate Tigo's first Mobile Money Agent of the Year.
March 2015: In April 2008, 49-year-old Alejandra Aldana was involved in a car accident that left her with serious life-changing injuries.
Overnight, the mother, businesswoman and active resident from the small town of San Raymundo, Guatemala, became a paraplegic, confined to a wheelchair, with only partial mobility in both hands.
While her life changed dramatically, her journey since has shown what strength through adversity can achieve.
She adapted in order to grow her business (her general store called Xelajū), becoming a Tigo Money agent in March 2011 to bring in new customers.
Her constant dedication since then to improving and promoting the products and services on offer soon got her noticed by Tigo.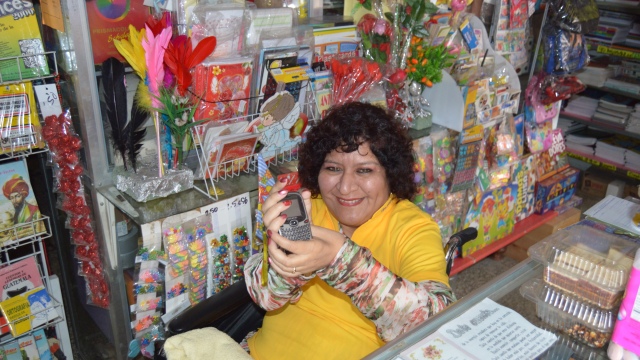 "I'm very grateful for this award. Thanks to everyone who works in Tigo.
You definitely are a great company and remember that you have me in San Raymundo for anything that you may need." 
When representatives who attended this year's Tigo-hosted Mobile Financial Services (MFS) summit in El Salvador were invited to select one outstanding candidate from all of Tigo's eleven mobile money markets as "Agent of the Year 2014" they chose her. 
"It was Tigo as a whole that found her," said Guatemala's Head of MFS Rafael Antonio Wug Toca.
He added: "She was clearly the most committed among the names put forward. She speaks as if she works for Tigo, she's very proud of Tigo, and she's such a big fan because she's found a way of being useful for her family.
It's about making money but it is also about being relevant to your local community."
Alejandra agreed. She said: "People did not know that sending and receiving money was that easy. So we had to convince them how to do it, and if they had any issue we were here to help them."
She added: "Tigo Money gave me another way I can be useful to the people in this town."
Greg Reeve, Chief Operating Officer for MFS, said the search for candidates had been extensive: "Agents are a critical piece of delivering great service to customers and Tigo has over 70 thousand agents worldwide. This process was thorough and difficult as we had many deserving candidates. Our congratulations go to Alejandra on this achievement."
>Find out more about Tigo's mobile money services