Tigo Ghana's #Shelter4Education
Over the years, Tigo Ghana has been reaching out to deprived communities to support various educational projects in order to improve standards of living. In 2015 Tigo Ghana prioritized education in its Corporate Social Responsibility agenda under the banner #Shelter4Education. Here, Gifty Bingley, Head of Corporate Communications and CSR for Tigo Ghana, explains. 
Accra, 3 August 2015: This week, four national TV channels in Ghana have begun screening a new seven-part documentary series on an exciting community led initiative #Shelter4Education which will help to transform education in rural Ghana. 
Each episode tells the story of how children struggle to get a good quality basic education, often with no existing infrastructure for learning. Each ends with the handing over of a brand new school to the students, the opinion leaders, the Ghana Education Service and members of each community.
In her opening remarks, Tigo Ghana's General Manager Roshi Motman (@RoshiMotman) reiterated Tigo's commitment to caring for the communities where it provides services.
She emphasized how educational investment will benefit both the pupils, their families and the communities at large. "As the level of education increases, so does the chance to get and keep a job, have a healthy life and support a family", she said. 
The #Shelter4Education initiative took several months of planning and execution.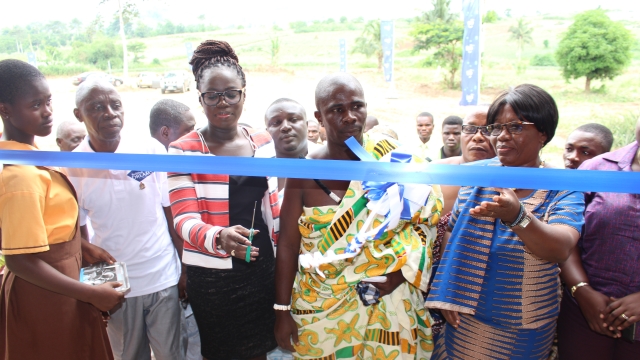 It began with the identification of various schools that existed as poor, makeshift structures, working with various Heads of Territories for Tigo and using their local knowledge.
Factors to be considered in the initial selection of #Shelter4Education schools included network connectivity, Ghana Education Service accreditation, and the pupil to teacher ratio, just to mention a few.
Once six schools had been identified, a close partnership was set up with community and opinion leaders, as well as the Ghana Education Service (GES) and the local government administration.
The GES provided site plans while the communities provided local labour for the construction of each school.
Tigo, in addition to each school, also provided a headmaster's office, staff common room and kitchen and toilet facilities.
"This week's episode featured the Saint Joseph RC Primary school in Ghana's foremost mining town, Obuasi. This was quite an emotional episode as the renovated school was for children with special needs," said the lead on PR for #Shelter4Education, Veronica Owusu Ansah.
Part of the sustainability plan for #Shelter4Education includes providing the children with their first digital experience through the Tigo Mobile Digital Library van which is fitted with computers and tablets.
Tigo Change leaders including Hayford Siaw and Regina Agyare will be providing the pupils with introductory classes on information and communications technology (ICT).
Don't miss next week's #Shelter4Education episode.
It airs on Sundays: TV3 4:00, Metro and ETV 6:30, VIASAT 2:00pm and UTV 7pm.
*Schools to feature in '#Shelter4Education' include: Ejura Sekyere-Dumase MA School in the Ashanti region; St Joseph RC Primary School in Obuasi; Tupaa Basic School in the Greater Accra region; Obeng Yaw Basic School in Adeiso, Eastern Region; Dimabi Nursery and Primary School in theTolon Kumbumgu district of the Northern Region; and Banda Ahenkro MA School in the Brong Ahafo region.