Artificial Intelligence - the new reality of business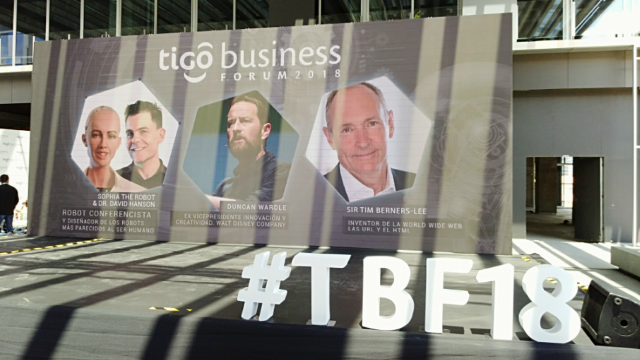 Tigo Business Forum 2018 l 4 September 2018 l Hotel Westin Camino Real
Press Release (Spanish)
Guatemala City: Tigo Business is to stage this year's much-anticipated Tigo Business Forum (#TBF18) under the banner headline "Artificial Intelligence, the new reality of business" and with the help of a human-like robot called Sophia.
The forum, which has rapidly grown over five years to become one of the most widely-recognized tech events in Central America's calendar, provides a platform for world-renowned tech leaders, innovative thought, business insights and valuable networking opportunities. More than a thousand business leaders are expected to attend.
This year, expect to hear from Duncan Wardle, former Head of Innovation and Creativity at the Walt Disney Company; Sir Tim Berners-Lee, inventor of the World Wide Web, the URL and HTML; and Dr. David Hanson, founder, CEO and Designer in Chief for Hanson Robotics. 
Dr. Hanson will be accompanied by the so-called "social robot" Sophia.
According to Tigo Business Director Francisco Mancilla: "Artificial Intelligence (AI) has the power to transform society within the next ten years, just as electricity transformed the way industries could function last century. Different sectors have begun to integrate AI technology into their processes, as they become better able to visualize the benefits in terms of not just future productivity but also strategic decision-making."
Tigo Business, which provided tech support and services for more than 240,000 customers in 2017, is focused on developing its own AI-based products and services. These include customer-service chat bots – computer programs designed to conduct conversations. Mancilla said: "The aim is to improve communications between companies and their customers in order to create faster response rates and identify better customized solutions."
It is predicted that in 2020, 85% of all company Chief Information Officers will be leading AI projects. In Latin America, the International Data Corporation has estimated that 30% of all digital transformation initiatives will be using AI in 2019, that half of all business applications will be using AI, and more than half of all consumers will have interactions with AI via customer service bots.
Already we are seeing benefits. In health, AI is able to use algorithms and software to approximate conclusions from complex medical data, without direct human input. In financial services, AI is uniquely able to detect fraud as it occurs, while customer-facing AI can be more efficient at processing information to help people make wiser credit decisions. In transport, innovations in AI may help build safer, more efficient, smarter transportation systems. In retail stores, AI can support customized production and design, anticipation of demand, inventory management and delivery.
In Guatemala, AI is in its early stages. Nevertheless, according to Mancilla, IT leaders are looking to invest in this wave of new technology in order to improve user experience, internally and externally, throughout their business.