Tigo's winning tech partnership for schools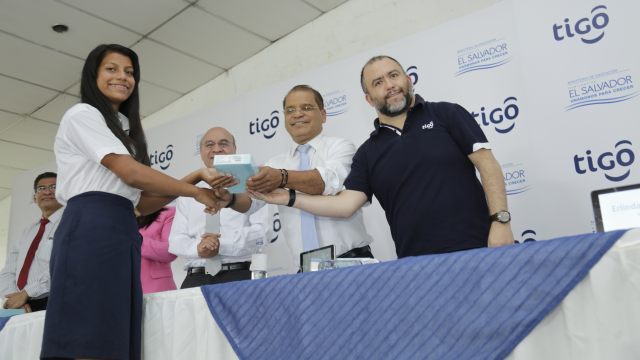 A unique Tigo partnership with El Salvador's Ministry of Education is providing young students in state education around the country with access to mobile technology and greater digital learning as part of their essential education. Find out more...
TIGO EL SALVADOR PRESS RELEASE (Spanish)
WEBCAST REPLAY (Facebook)
San Salvador, April 2018: A unique opportunity to accelerate digital learning in schools around the country has culminated in the handover this month of more than 25,000 tablet devices to more than 1,500 state schools for the planned benefit of more than 66,000 students.
The handover, brought to life in a symbolic presentation after months of planning, marks a new step forward for Tigo in its Corporate Responsibility program to facilitate and encourage digital literacy.
Tigo General Manager Marcelo Alemán met with El Salvador's Vice President Oscar Ortiz, the Minister for Education Carlos Canjura, as well as teachers and students invited to attend the ceremony at General Francisco Morazán, a school in the capital San Salvador. There, Marcelo Alemán presented the first of the tablets to the Ministry of Education (Twitter / Facebook).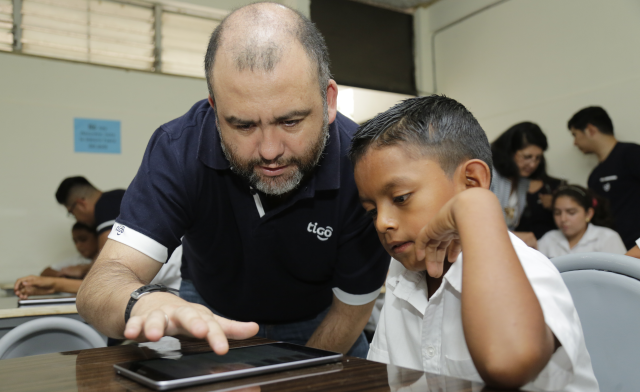 "Tigo is a strategic partner for El Salvador. This initiative demonstrates our commitment to digital learning, and the growth of El Salvador through technology. We believe the young generation of El Salvadorans need this kind of opportunity in order to advance and we are proud to be able to say we are able to contribute by giving that which characterizes us; innovation and technology," Marcelo Alemán, said.
Tigo's US$3.5million investment marks a first step. The 25,000 devices will be configured according to Ministry of Education standards, then issued with protective covers in two phases to key schools identified as having the greatest need for digital learning facilities.
The tablets will be used for teaching and ITC learning purposes only, to college level.
In parallel with this schools-based digital learning initiative, Tigo El Salvador is also focused on closing the gender gap across a broader tech environment within society.
Working hand-in-hand with the non-profit organisations Visión Mundial and Fusalmo, Tigo leads a separate initiative called "Salvadoreñas Conectadas para el desarrollo". The program aims to guide 100,000 women in how best to use technology, as part of the commercial brand's commitment to an equal, access-for-all Internet.
Media coverage:  La Prensa Grafica / El Salvador online / El Diadio de Hoy / Ministry of Education / Diario Co Latino