Tigo in top ten Most Admired Brands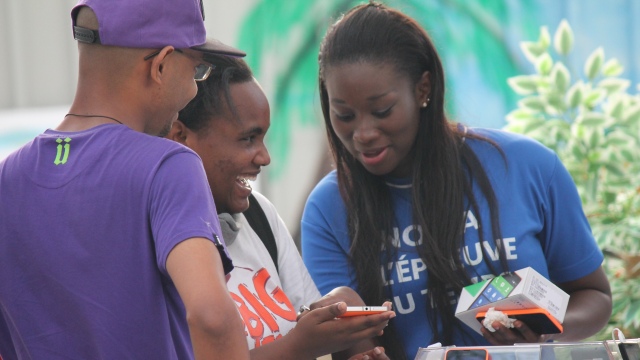 A report published last month by Africa Business magazine in partnership with Brand Africa has ranked Tigo at the top end of its top 100 Most-Admired Brands active on the continent.
December 2014: Tigo's leap frog up the rankings from 41st to 8th position, follows an impressive year for the brand in its six mobile markets – Chad, Senegal, Ghana, DRC, Rwanda and Tanzania.
We launched several significant first-of-their-kind Tigo services that have both challenged our competitors and impacted the industry as a whole.
Tigo Tanzania's introduction of profit-share interest payments on balances held by customers using Tigo Pesa – our mobile financial service – is one case in point. It had never been done before.
The brand report, which was compiled by Brand Africa founder Thebe Ikalafeng, Brand Finance Africa Managing Director Oliver Schmitz and Brand Finance Africa valuation director Rupert Kemp, states that telecommunications is one industry where African brands have managed to hold their own against competing internationals.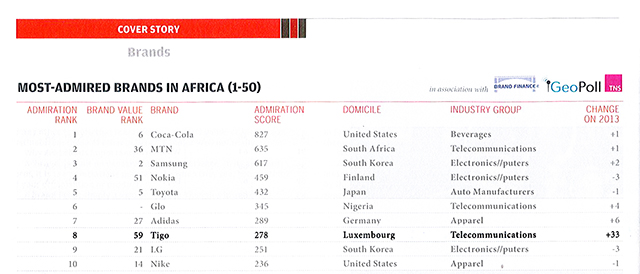 Of these, it described Tigo as, "the most notable success story, adding 82% to its brand value over the year. While it may not have its origins in Africa, the brand has spent much of its life developing in emerging markets and the lessons learned seem to be paying dividends".
Yet despite double-digit growth on the back of customer demand and customer-led innovation, there is the bigger picture: one that shows how far Africa still is from digital. How much opportunity remains.
In brief, fixed broad band penetration in Africa is at 5.2 per cent while one in five people have access to mobile broadband. (ITU releases 2014 ICT figures) 
Illiteracy, added to the cost and lack of this digital infrastructure, also presents a major obstacle to connectivity.
In addition to a greater degree of collaboration between Over-The-Top (OTT) players and telcos, Millicom's Executive Vice-President Africa Arthur Bastings says reform of the telecoms regulatory and policy environment is needed.
Speaking at a recent industry summit in Cape Town, South Africa, he noted governments were an important stakeholder in the digital ecosystem, adding: "Many governments misunderstand the economic potential of investing in ICT.
"Governments' short-term focus on heavily taxing the installation of digital infrastructure restricts economic growth and is counter-productive. Policy makers are viewing  connectivity as an end rather than as a means to a greater economic goal."
For Tigo 2015 promises more consumer-led innovation and enterprise in Africa.
Investment in our networks will make internet access available and affordable to millions more. Tigo Chad launched 4G in the capital N'Djamena in November, with plans to extend this nationwide. Tigo Tanzania, Tigo Senegal and Tigo Ghana are likewise extending further into their markets.
Also in November, Tigo Music, Tigo's music streaming platform, launched in Ghana with plans to roll-out further in the New Year.
And soon we hope to see some exciting results emerge from Tigo Rwanda's tech incubator "think" and its first four African start-ups, announced in October.
Also read: Part I and Part II of Hong-Kong based HKTDC's report on Africacom conference.