Tigo Sessions: Juanes exclusive
Juanes, the Latin Grammy Award winning artist who has sold more than fifteen million albums worldwide, joins Tigo Music in the studio for an exclusive recording session.
13 August 2014: Tigo Music recordings featuring seven tracks by Colombian star Juanes will soon be available to viewers and listeners across Millicom's Tigo networks in Latin America.
The singer and solo artist has sold more than fifteen million albums worldwide, with his most recent - Loco de Amor - reaching number one in fourteen countries.
These latest recordings, a compilation of greatest and latest tracks performed in a Miami studio, were produced by five-time Grammy award winner Steve Lillywhite who has worked with artists such as U2, The Killers, The Rolling Stones, Simple Minds and Peter Gabriel.
A Tigo Sessions interview with Juanes will also go to air. 
From Friday this week, (see our Press Release) Tigo customers can view or download them exclusively either at Tigo Music via mobile, or via any Tigo Star TV or cable channel.
As Colombia's leading digital music provider, Tigo Music came up with the sessions idea to give customers unique enjoyment of their favourite artists as they perform behind closed doors in a recording studio.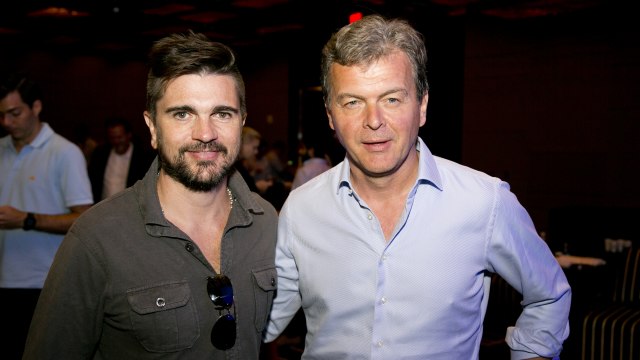 Millicom's President and CEO, Hans-Holger Albrecht commented: "Juanes is one of the most popular musicians in Latin America, so we are delighted that he has recorded seven new Tigo Session tracks exclusively for our customers there. We hope they enjoy it. It is another example of how we provide great content over multiple devices as part of the digital lifestyle."
Juanes, from Medellin, is likely to prove a huge hit.
A former member of the heavy metal band Ekhymosis, he first tasted solo international success with his album Fijate Bien in 2000.
His follow-up album, Un Dia Normal, was released in 2002 and went platinum (selling more than one million copies) in several countries throughout Latin America.
His third, Mi Sangre (2004), also became an international bestseller and the single "La Camisa Negra" a huge hit worldwide.
He has since released La Vida... Es Un Ratico (2007) and P.A.R.C.E. (2010). On May 29, 2012 Juanes released the album Juanes MTV Unplugged.
In addition to his music, Juanes has also taken a prominent role in social activisim, humanitarian and charitable causes through his Mi Sangre Foundation.
He is frequently recognised as one of the Spanish-speaking world's leading social media voices with an online following of more than 16 million fans.
In 2009, Colombia awarded him the National Prize for Peace for his work at local and national level with refugees, internally displaced people and communities affected by armed conflict.