TIGO wins Great Place to Work award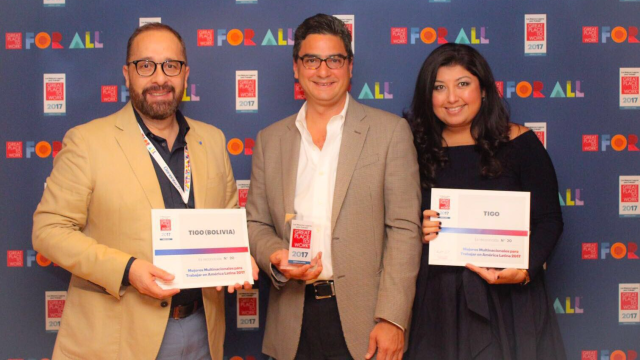 Chicago, 23 May 2017: Millicom is very proud to announce that its TIGO operations have placed among the top 20 multinational employers of choice in Latin America at this year's prestigious Great Place To Work (GPTW) awards.
The 2017 awards, announced at the Great Place To Work for All annual conference in the US city of Chicago on Wednesday, provide recognition of the best companies to work for in more than 45 countries worldwide.
Luis Arturo, VP Global Talent Management for Millicom, was on hand to collect the award which is widely considered to be an effective benchmark of culture in the workplace, where employers can be measured against some of the most successful companies in the world. 
Our TIGO operations, which employ 18,000 men and women, scored highly following a series of impressive results on GPTW's local lists in Bolivia, Costa Rica, El Salvador, Guatemala, and Paraguay.
TIGO Honduras was ranked among the best multinationals to work for in Central America last year and our Colombian operation is measuring progress this year on new initiatives to elevate its good leadership, employee engagement, and organizational culture in alignment with the GPTW Institute.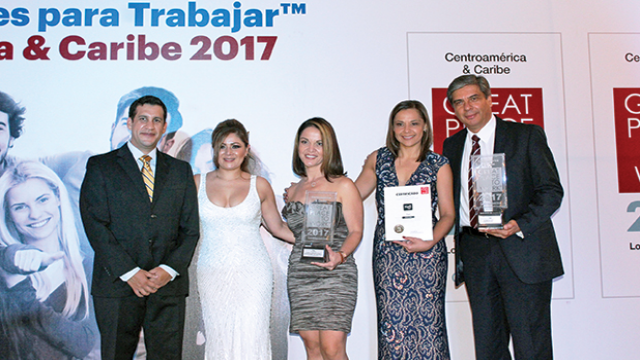 Millicom CEO Mauricio Ramos said: "We are convinced that a good work environment is the best way to obtain excellent business results and an essential element in having motivated employees.
"At the same time, the work that we do in the communities where we operate provides volunteering opportunities for our employees, making them part of a larger family and of a bigger mission that goes beyond their daily tasks. We are proud of this distinction because we work day after day to achieve that goal and to improve every year."
The GPTW rankings each year are largely based on information shared anonymously by employees who are invited to rate their workplace on details such as trust, sense of pride and camaraderie.
Other aspects include the GPTW's evaluation of company human resources practices and policies.
Overall, the GPTW rankings this year identified the 100 best companies to work for in Latin America according to size: the 25 best multinationals, the 50 best small and medium-sized companies (between 50 and 500 employees) and the 25 best large workplaces (more than 500 employees).
To find out more about Great Places to Work, click here