Tigo Paraguay builds flood resistance
Every one of Millicom's markets in Africa and Latin America can be affected by severe weather events such as prolonged drought, hurricanes or tropical storms.
As a result, our unique footprint often requires staff to work around and through some of the most challenging physical conditions. It is their determination and ability to succeed that defines our brand and our Demand more ethos.
For Tigo Paraguay, 2014 has been an exceptional year. Heavy rains have led to some of the worst floods Paraguay has seen in many years. Since May, more than 300,000 people have been forced to flee their homes according to the Inter Press Service (IPS).
More rain is likely. Not only because October to May is usually the wetter season, but because Paraguay is feeling the adverse effect of a climactic phenomenon known as El Niño, when unusually warm ocean currents surface off Latin America's Pacific Coast.
According to Victor Valdez (Head of Network availability) and Ricardo Moral (Power and Civil Works Supervisor), the floods have forced their colleagues in the field to invent and implement new safety measures that will protect Tigo customers from massive disruption.
One of these solutions has kept the stricken community of Puerto Elsa (population 5,000) connected.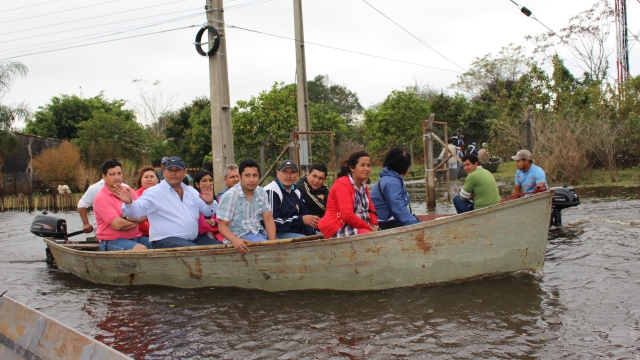 Puerto Elsa lies close to the capital Asuncion, on the border with Argentina. Like Asuncion itself, it stands in the heavily affected Paraguay river basin. Local residents here were among the first to have to head for higher ground when the flooding began.
As they evacuated, Tigo Paraguay's local generator ensured all mobile networks remained operational. Eventually, the waters rose so high even the generator flooded.
At first Tigo's team of contractors and service engineers considered leaving the site altogether until water levels receded.
But then they saw some Puerto Elsa families had remained in their homes. Families that lived on two floors had simply moved their belongings upstairs and stayed. Tigo could also see that local commercial activity was continuing, only this time in canoes rather than in the streets.
"The residents relied on contact by phone more than ever. And our Tigo Money customers needed to be able to send and receive funds. So we brainstormed," said Ricardo.
At first, he along with Rafael Picco (BTS technician) and Adner Mareco (Power & Civil Works Engineer) considered fixing generators to floating platforms.
Instead, they decided to design and build a platform that could then be transferred and re-installed above water height on the actual tower structure at Puerto Elsa. 
They had to move quickly and so Operation Houston began.
"As planned, we built the platform to exact specifications on a similar Tigo tower in one location, under the supervision of tower technician Heleno Panderi, and then shipped it in small boats and dinghies to the flooded Puerto Elsa tower," said Ricardo.
The minute the platform was re-mounted, teams led by Monica Chavez (Head of Rollout), Hector Vallejos (Head of Transmission) and Jaime Saavedra (Radio Frequency Supervisor) set the transmission equipment in place that was configured to reactivate a 3G radio base. The whole process took just two days.
With Rafael, they then engineered a 2G solution in order that more customers had access, using the same procedure only with new configurations and more equipment literally shipped in.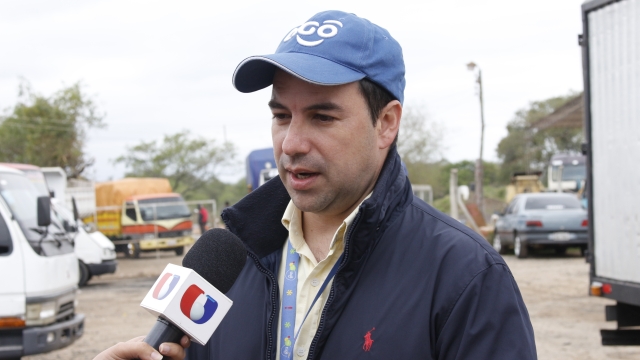 The new base was operational within a week and Paraguay's national press spotted their success. "Extreme circumstances sometimes require extreme measures. And this worked," said Ricardo.  
The floods have not only challenged Tigo. They have also caused disruption to Paraguay's national grid. So at present Tigo has a powerful generator on site to ensure this new base is unaffected by power cuts and to keep its business going in these flooded areas.
Ricardo and his colleagues have put into practice Millicom's "Demand More" ethos: by demanding more of themselves they have given more to our customers in Paraguay.