Carlos Maldonado
Business Product and Service Development Manager, USA
An experienced entrepreneur is by definition rarely happy with just one business startup.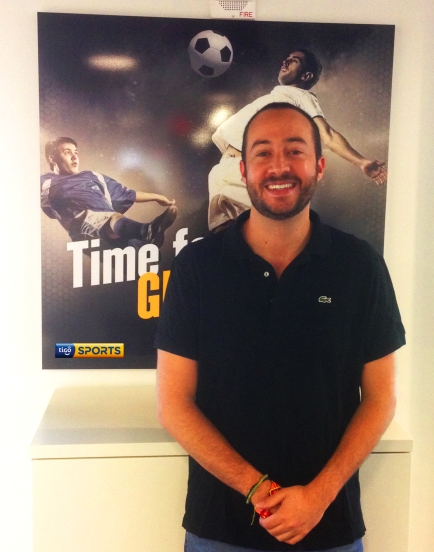 Tigo Star's Business Product and Service Development Manager Carlos Maldonado, 37, can list several.
The Colombian has worked since he was 15 (selling doughnuts) and was among the first of his generation to join the dot com boom of hi-tech digital startups, back in the late nineties.
A few years later, he was one of the few who survived the bust.
As part of the startup team behind online trading platform DeRemate, he remembers, "we suddenly went from an office of 30 to four overnight. I stayed. I was in charge of main categories such as electronics and computers, and these were making a bit of money."
In 2007 he left his job with Telefonica to launch a multi-million US dollar startup that offered technical support to households and businesses.
In 2010, he launched another startup in Artificial Intelligence.
He joined Millicom in 2011 and says: "That's what I love about Millicom. It is the best of both worlds. You are working in a very dynamic company that allows you to create things and you sometimes think you are working in a startup."
Having grown up in a Bogota, he remembers a city regularly caught up in civil violence. At that time, he lost his father (when aged six) and then his step-father (aged 19) and remembers, "I had to support my mum and was suddenly in charge of the house."
While he worked to support the family (as an event organizer, or selling records), he also studied for a bachelors in industrial engineering and then for a post-graduate diploma in Prospective and Strategic Thought.
The late nineties were tough. "We had a huge crisis in Colombia, my step-father died and the financial situation for many companies got hard, they weren't doing well."
Leap forward a few years and in 2010 Carlos returned from Spain armed with an MBA from the prestigious IE Business School in Madrid.
He joined Millicom one year later and was posted to Costa Rica as Innovation Manager. He has since relocated again, this time to Millicom's corporate offices in Miami.
Carlos credits his mum to this day with his strong work ethic and discipline through school and college, and he says his family still keeps very close.
When asked about his career journey so far, he refers to a family tree made up of entrepreneurs: previous generations who had set up businesses. "In some cases successfully. In some cases they've had to close."
Two key moments in his own path also help explain where he is today: the realization that finance interested him, and that electronics and telecommunications fascinated him.
And then, of course, he already knew that creativity and business motivated him.