Grethel Viquez Valerio
Head of Broadband, Interactive & Fixed Telephony products, Costa Rica
When she's not at her desk evaluating Tigo Costa Rica's next product marketing strategy, Grethel Viquez Valerio could be floating several thousand feet in the air.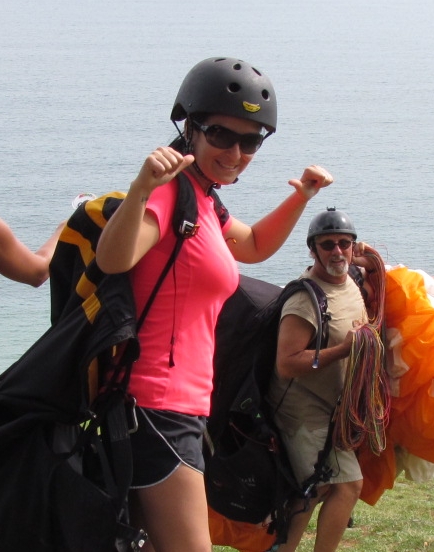 The 31-year-old paramotoring head of Broadband Interactive (BBI) and Fixed Telephony products clearly has a head for heights. 
On the phone, she sounds far more down to earth.
As a strategist, she says: "I think first. Then I'll kick off my heels, which I wear every day, and walk in the mud if necessary."
Two people in particular have helped form and develop her sense of drive and motivation.
Firstly, her late father, a factory worker, who taught her early on that women can be independent and support themselves. Secondly, a mature student friend at university who'd fought her way with fewer opportunities to reach higher education. She told Grethel not to waste a day and to 'make the most of your head start. Make the most of your time, because it flies'."
She graduated in advertising, with an MBA from the Universidad Latinoamericana de Costa Rica and has taught other college students not much younger than her.
"I am thankful that I could study the way I have in this country, to have had the opportunities to grow, to have begun from nothing and come this far."
Grethel joined Tigo in 2012, after six years in financial marketing and is heavily involved with developing ways to grow ARPU revenue.
She describes herself as someone who is creative and then discovers a talent with numbers. "You then need both. You need to understand very carefully the financial aspect behind every marketing idea and justify, based on consumer preferences."
Away from work, her hobby brings her as close she can physically get to Millicom's work ethic - Reach for the Stars.
While the world slowly wakes she'll be up for those 5am flying lessons whenever she can fit them in, and has seen the sunrise many times from several thousand feet in the air. In case you hadn't guessed, extreme sports is another passion.
She's also a great cook - friends rate her vegetarian fetuccini most of all. "Cooking de-stresses me and I like to invent," she says.
Her impressions from working for Tigo? "There's always a smile. People are very agreeable to work with and there's respect for teamwork."