Angela Gonzalez
Director, Programme Office, Colombia
To successfully juggle responsibities for four business areas and be a roller-skating hands-on mother requires a strong sense of balance.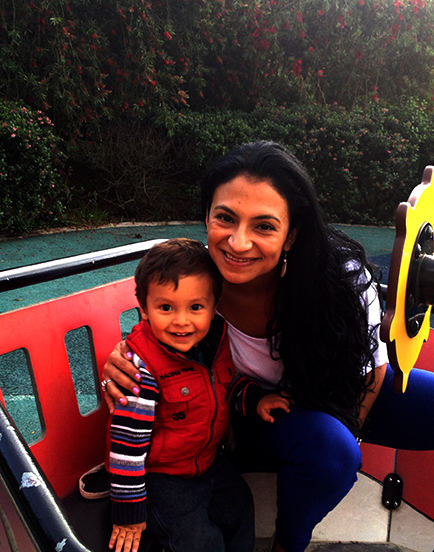 It's no surprise then that Angela Gonzalez, 36, is directing the Programme Office and responsible for Project Management, Process, Business Continuity and Control Budget. Previously, Angela was part of the team responsible for strengthening Tigo's recent merger with Colombian broadband and fixed line telephony provider, UNE, and building an exciting new culture.
"What I love most about the company is that it changes every day," she says with a chuckle.
Angela started in Fraud & Control ten years ago and then, moved on to managing a high-profile 4G implementation project, the first in which Millicom worked with another telecommunications company to share infrastructure for significant capital expenditure reduction. Her keen interest in other operations led her to briefly work in El Salvador and Guatemala, to support processes there.
Angela's dream was to be an engineer. In a society with very few female engineers, she enrolled in Systems Engineering at university, specializing in audit and project management.
"Women were always treated equally," she pauses for a minute, before adding, "The only time I faced discrimination was during my job hunt." Tigo was quick to spot her natural ability and never-say-die attitude.
The youngest of five siblings in a close-knit family in Bogota, she learnt early on that a whole was more than the sum of its parts, and that effort was the means to accomplishment. "My parents taught us all to work hard. They raised a large family without much and they got us going."
Her first love was aerobics. She started training when she was sixteen, and taught it in school, and in university. She finds sports an easy way to spend time with her family – her husband, an independent business manager, and their energetic three-year-old son, Manuel, whom Angela describes as the 'centre of her life'.
She stresses that family values matter; her husband and son as well as her mother, brothers and sisters are an integral part of her life.
She has just resumed skating after her college days and shrugs off a recent fall, describing her determination to carry on.
And is that her philosophy in life too? She said: "I think everyone has an opportunity, but it depends on the attitude – the capacity to adapt to change – to turn these opportunities into success."