Vanessa Ramos Vaesken
Communications and Image Manager, Paraguay
It's an obvious question for somebody with a high profile job in televised sports and sports administration. "Do you play sport?"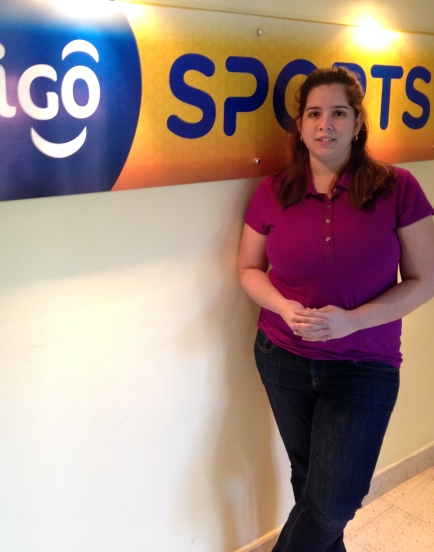 Vanessa Ramos Vaesken says, "I like my work more than I like being in the gym or on the field. And I may not be sports active, but I like watching it."
In her role as Communications and Image manager for Millicom's sports-exclusive TV channel, its her work then that's winning the race.
Her gameplan? To acquire and prepare the most practical, useful knowledge. Then share it.
It explains her success to date and the impact that Tigo Sports has had in Paraguay in a short space of time since it launched in March 2014.
"We do a lot more than set up and broadcast high quality coverage. We work with and encourage sports to raise their standards and organize. We encourage them to develop fixtures, schedules, calendars, for the purposes of media coverage. That way, they get greater recognition."
If finding the best deals online were a sport, however, then her name would most likely be a legend by now. According to family, friends and colleagues if there's a good deal out there, she'll find it. Game, set and match.
"People come to me for leads on how to save money and get the best value. Everything has a lowest price." (Tigo Star customers know then that they're getting value for money.)
Vanessa describes herself as more Paraguayan than the local dish mandioca (also known as cassava, or tapioca). "The national trait for Paraguayan women is to be strong and independent. There is an historical context. The war in 1870 nearly wiped out all the men, so we had to take charge in rebuilding the country. 
"I am defined in that way. I am always taking care not only of me but of others."
She also says: "Work is more than just a way of earning your living. I saw how teaching inspired my mother and I was always looking and wondering how I would find something as meaningful."
When asked about people who inspire her, Vanessa quotes from a book by Sheryl Sandberg, COO of Facebook about women sacrificing their career potential to take care of family and kids. "Sheryl said, 'Hold on! You're putting yourself in a position where you won't grow before you've even started. It doesn't have to be that way!'."
If she takes any time away from work, her goal is to visit Europe. "I love history and want to go, to see something completely different, to have the stress of experience where everything is completely new so you have to work hard to understand what's going on around you."
There's one thing clear. Wherever the best deal on flights to Europe is online, she'll find it.