Masmbaye Mbaideyo
Roaming and Interconnect Manager, Chad
Meet 32-year-old Masmbaye Mbaideyo, whose current role and responsibilities for Tigo as Roaming and Interconnect Manager play an integral part in Chad's digital transformation, and in Africa's rapid assimilation of mobile money and data services.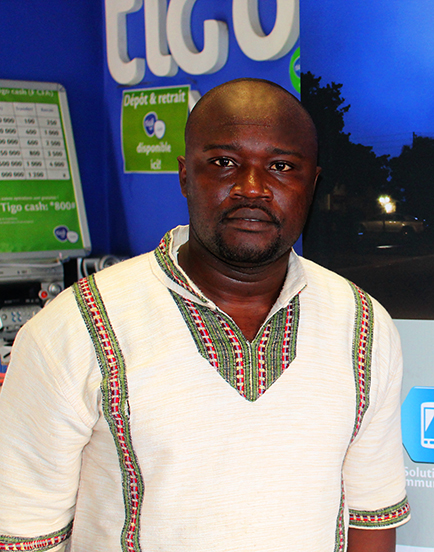 The pace of change in technology is moving exceptionally fast across sub-Sahara Africa.
To keep with it takes an early start for Masmbaye whose day begins at 530am and has done all his life. Born and raised in a village west of Moundou, Chad's second largest city (population 137,000), his agricultural engineer father encouraged these early morning starts as valuable time spent preparing for school.
He went on to study in the capital Ndjamena and then graduate from Senegal's University of Dakar in Maths and Physics, with a Masters in IT. After six years working in Senegal he returned to Chad as a quality assurance network engineer for Tigo. He has since moved up from there.
Masmbaye brings a strong sense of purpose to his work, shaping Tigo's partnership agreements and levels of interoperability with other telco networks, putting functionality and commercial frameworks in place that enable each link in the chain to get a commercial return.
"Customer satisfaction and follow-up, staying focused and being thorough with data analysis; these are what count."
He adds: "My highest dream is to be a GM one day. I believe I'm on the right track because my scope of work will increase and also because Millicom has given me the chance to be part of its Leadership Development Program, studying with the London Business School."
Picture then, diplomacy, responsibility, social skills and a sense of humour. Masmbaye, as the third of ten university-educated children, says he relied on these from early on and adds: "I'm always teaching family values.
"I also love a challenge and achieving my goals and I tend to be optimistic, which helps."
Having worked with Tigo colleagues in Cameroon, Senegal, DRC and Tanzania, Masmbaye is now based full time in Ndjamena, leading a team of three.
If he has any free time he'll spend it with his family, enjoying nature and the countryside out of town.
He used to jog but confesses it's been six months since his last run. This does not seem unreasonable. Average daily temperatures in the city can exceed 40 degrees celcius (102F); enough to make any sport, even chess, physically demanding!
When asked what life has taught him so far, he says: "What doesn't kill me makes me stronger."