Reducing e-Waste
Our ambition: No broadband equipment left behind.
The world will produce an estimated 74 million metric tonnes of e-waste by 2030* the bulk of which will end up in landfills. All of our operations have a global e-waste recycling program. Through our Customer Premises Equipment (CPE) Recovery Program, we aspire to recover most or all of the equipment our customers use for broadband and cable connectivity, should they terminate or upgrade their services. Once recovered, the equipment is either redeployed in the field or responsibly recycled, helping reduce the landfill waste we produce.
Because of the nature of our business, the growth of our markets and the pace of technological changes, we handle great quantities of such equipment and therefore regard e-waste as an ongoing concern and opportunity. In addition to established e-waste programs with vetted vendors in all of our operations, our approach to e-waste includes reverse logistics as a central element, as it helps us recover equipment that can be repaired and reused in the network. For example, by reusing plastic, we're avoiding the water consumption and associated CO2 emissions produced during the manufacturing of new CPE. As our Cable business continues to grow in all of our markets, so does the importance and complexity of reverse logistics processes to properly track our Customer Premises Equipment (CPEs), which are important assets for the company, and quickly recover them when necessary as we upgrade our service. 
*United Nations Institute for Training and Research (UNITAR), "Global Transboundary E-waste Flows Monitor 2022," 2022.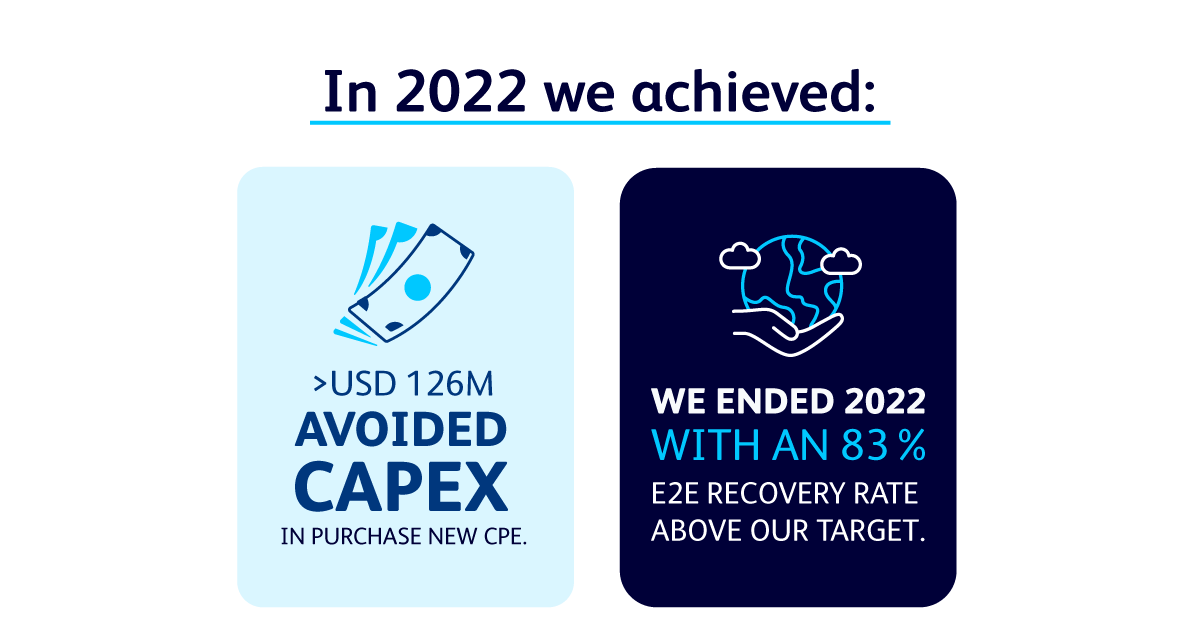 Reforesting Panama One Cell Phone at a Time
We're always looking for new ways to engage customers and employees in our markets. With our Un Celular, Un Árbol (One Cell, One Tree) initiative in Panama, we're not only engaging the community, but we're tackling two of the most persistent environmental problems in Latin America—the buildup of e-waste in local landfills and deforestation. Un Celular, Un Árbol invites customers to drop off obsolete electronic devices at specially identified mailboxes at any of 32 Tigo Panama stores. Our local partner, Renuevo Panama, either recycles or responsibly disposes of the electronics, including cell phones, laptops, desktop computers, cell phone batteries and electronic cards. Proceeds go to the Natura Foundation, which uses the funds to purchase and plant native tree species in the region. Tigo Panama and our allies plant one tree for each cell phone retrieved. Un Celular, Un Árbol embodies Tigo Panama's commitment to acting as an agent of positive change in the region. In addition to revitalizing local ecosystems, the program is playing an invaluable role in raising awareness among Tigo customers and the community on the importance of recycling e-waste.
We have active e-waste recycling programs in all of our operations.