Materiality:

 

Reassessing our

 

ESG

 

strategy

 

for a post-pandemic world
We typically conduct a bi-yearly materiality assessment. With the major and unanticipated disruption that COVID-19 brought to our business, customers and employees, we fully appreciated the value of this exercise.    
In addition to responding to the challenges and opportunities raised by the coronavirus pandemic, we also sought to learn from this unprecedented experience and understand whether we should adjust our CR framework, targets or disclosures.   
Our approach to Materiality
The purpose of our materiality assessment is to ensure we remain tuned onto the key ESG issues that are important to our stakeholders and that impact on the business to ensure that our CR and business strategy meets current needs and expectations.   Every assessment builds on the lessons learned in the previous one, effectively leading to a cycle of continuous look-backs and improvement. Our previous materiality assessment had taken place in 2018, with Business for Social Responsibility (BSR) and led to a holistic CR Framework that served us well for years, along with a 5-year Plan with targets and goals agreed upon with leaders from different business functions. While our key issues did not differ materially from the previous assessment, the transition to a strategic ESG Framework which tied all our work to Millicom's core business purpose, helped us achieve more alignment and ownership across business functions and all operations.   
2020 Materiality Assessment

: Methodology
While the methodological approach was replicated from the 2018 assessment, we tailored the 2020 assessment to the specific issues, challenges and opportunities posed by   COVID-19. Accordingly, we focused on:   
If and how COVID-19 challenges, priorities impacted business, stakeholder priorities or CR Framework/Plan

 

Which issues need to be raised or lowered in priority

 

Whether there are

 

any new relevant issues

 

What capabilities we need to create or improve

 
We supplemented the list of relevant ESG issues with comprehensive desktop research which included the latest publications from investors, industry, NGOs and multilateral organizations.    
As in past exercises, we interviewed over 40 internal leaders of our business lines and in our operations. We also reached out to our four key stakeholder groups in the following manner: 
Group 

Type of engagement 

Investors 

Interviews with

 

key Millicom investors

 

Revision of

 

reports on our company by top ESG raters

 

Ongoing monitoring of

 

ESG queries received from investors and potential investors

 

Customers 

Online survey

 

conducted to over 4,000 customers from all our markets.

 

Employees 

Interviews with key Human Resources staff

 

 

Internal

 

HR

 

surveys

 

conducted company-wide

 

Community 

Interviews with

 

NGOs focusing on Sustainability, Child Rights and

 

Privacy

 

Online survey to a group of

 

NGOs, community organizations

 

and public sector agencies in all our markets.

 
Assessment Results
Through our he assessment, we obtained insights on how certain expectations had shifted by stakeholder group which lead us to updating our 2018 matrix. Below you can see the expectations by stakeholder group as well as the updated materiality matrix, color-coded to show which topics had changed regarding the previous assessment: 
2020 Materiality Matrix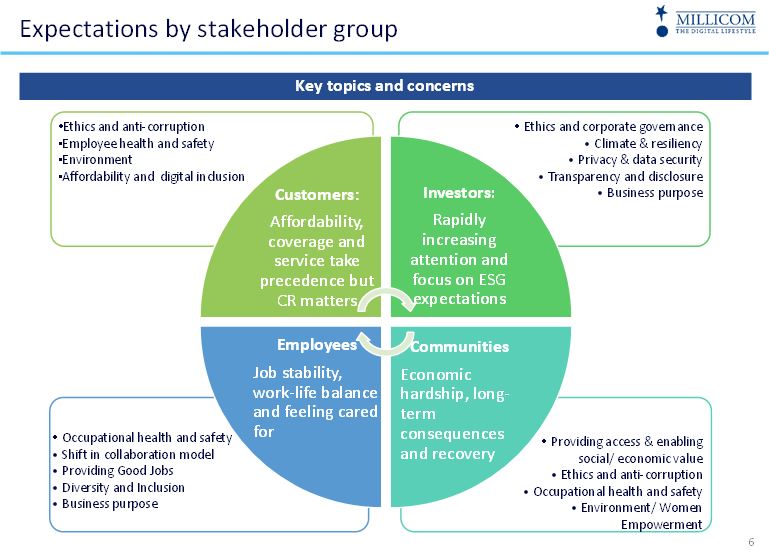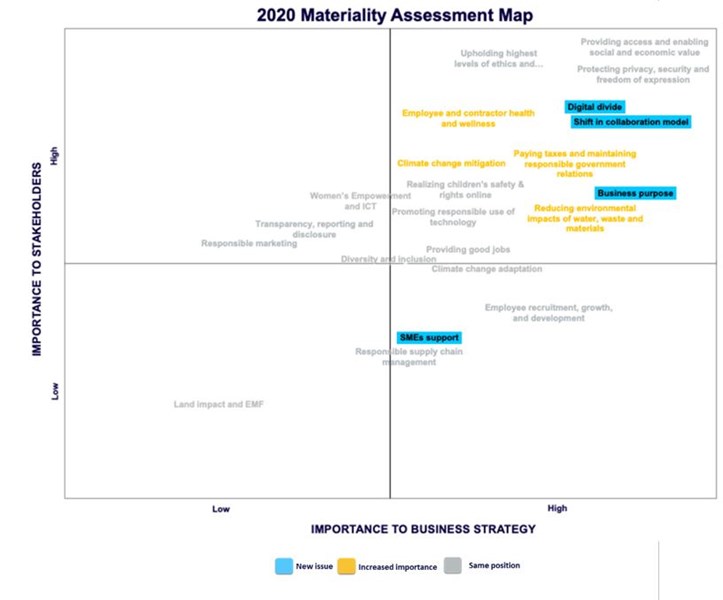 Conclusions
We found that our strategic CR framework, evolving into an even more comprehensive ESG approach, provided a sound compass to navigate through the disruption and remains very relevant, albeit with some shifts in our tactics and approach. While all our current areas of focus remain of interest to our stakeholders, some topics, such as Employee and Contractor health and wellness and climate change increased in importance. In addition, some topics   took on significantly more relevance. For example, our Business Purpose became more important than ever.  Guided by our North Star, our workforce doubled down to ensure that our network and digital tools helped keep businesses running, gave citizens access to healthcare, education, government services, and allowed them to produce incomes while safely working from home.  We also noted a "Shift in Collaboration Model" or how COVID-19 accelerated the changes in our ways of work, something that   proved invaluable as we navigated through the uncertainty. 
We also understood that Millicom has an opportunity to more clearly link its ESG goals with the company business objectives and to better communicate that alignment to all of our stakeholder groups; something reflected in the updated and upgraded ESG strategy developed during 2021, with new and ambitious targets on emissions reduction and Diversity, Equity and Inclusion added to our ongoing commitments. All in all, the exercise was very valuable tool to conduct company-wide discussions on the opportunities ahead in the "new normal".